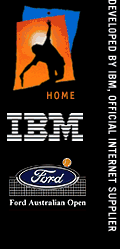 Australian Open, the 27 of January.



From Michael HENDERSON.



SAMPRAS LOOKS AHEAD TO FRENCH OPEN.

Pete Sampras won his ninth grand-slam title on Australia Day here Sunday (January 26). He overwhelmed Carlos Moya, the 20-year-old Spaniard, as convincingly as Martina Hingis had disposed of Mary Pierce the day before, and celebrated what he considered the "toughest" victory of his outstanding career.

So masterly was he, so much more assured than the man from Majorca, that it made for an immensely disappointing final. There was no sign of the Moya who beat Michael Chang so pleasingly in the semi-final, no indication of the thrilling contribution he had made to this championship. He suffered the sort of defeat that can make some players go away feeling they can never aspire to play at this level, so it will be interesting to see how well, and how swiftly, he rediscovers his best form.

"I played really well today," Sampras said. "With the heat and the heavy balls used here, this was the toughest competition I have ever played, but I came through and played really, really well. I knew it was going to be a tough two weeks if I was to win, and my game just got better as the tournament went on.

"I wanted to set the tone of the match today. I did not want to play many long rallies. I knew that if I served well it was always going to be hard for him to break me. The plan was to keep the ball away from his forehand, and to come in to the net, as I have been doing for the past couple of weeks.

"To beat the guys I have played here, in conditions that did not favor me, I have surprised myself a little bit. I have never played in conditions I experienced here in the fourth-round match (a five-setter against Dominik Hrbaty), and I peaked at the right time today."

Moya's plan, to get Sampras scurrying hither and thither around the court, to tire him out, had its foundation in hope alone. Instead it was Moya who was charging about, as Sampras took immediate control of a match that lasted only an hour and 20 minutes. Where Moya was smashing winners inside the lines against Chang, here he hit them long and wide. He never got into the match.

Sampras took the first set 6-2 in 22 minutes, without a tremor of self-doubt, and the next two each by 6-3 to win his second Australian Open, and start the year in fine style. He craves a first French title, to put alongside his many accomplishments, and he remains the player all others must beat.

Sampras admitted that he does not spend his social hours counting his honors, but he is looking forward to winning a few more grand-slam titles. "I feel I have a lot of good years left in me. To win the French title would be something, and I will be doing all I can this year to do it."

This was a fine win for the world No.1, who showed true champion quality in playing two five-setters this week, and having enough left over to trounce Moya.

"There is always a bad match during a tournament like this," he said, "and mine was in the fourth round." That was when Hrbaty, the unseeded Slovakian, was 4-2 and 40-15 up in the final set before Sampras gathered himself for one last surge.

His ninth grand-slam success moved him ahead of Fred Perry, Ken Rosewall, Jimmy Connors and Ivan Lendl. He still stands behind Bill Tilden (ten), Bjorn Borg and Rod Laver (11) and Roy Emerson (12). Moya, in all probability, will never reach those heights. He was a disappointed young man in defeat but the knowledge that he was vanquished by one of the game's great players may provide some consolation.

Because he wins so regularly, in a manner seen as "cold," and because he lacks the color of other players, Sampras has struggled to achieve wider recognition in the world of sport. Success brings its own palliative and, if anybody should ever doubt it, Sampras can always tell them: look in the book.